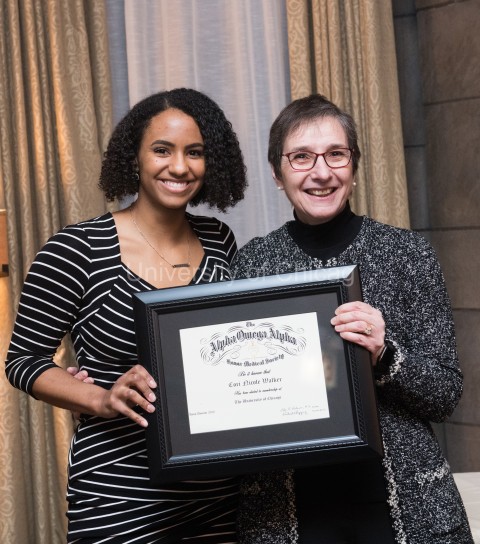 Tuesday, February 9, 2021
2021 AΩA Virtual Ceremony
The University of Chicago is home to the Illinois Beta Chapter of Alpha Omega Alpha, the national medical honor society. Election to the chapter occurs at the beginning of Pritzker students' fourth year and is guided by the regulations for election as set out in the AΩA constitution. 
The selection of AΩA eligible students, which is defined by the AΩA constitution as the top quartile of the class, is based on holistic review which is aligned with the holistic review our Admissions Committee uses when evaluating prospective students and with the mission statement of the Pritzker School of Medicine. This includes: 
Academic performance during clerkship rotations 
Participation and achievements in research/scholarship 
Leadership, volunteerism and institutional service as reported in the Student Management System and in students' CVs 
Peer assessment as determined by an anonymous, end-of-academic year survey of MS3s (the peer assessment score given to students who take time off comes from the cohort with whom they completed the MS3 year)
From the eligible group, up to 20% of the class is then selected into membership in AΩA by a committee appointed by the Dean for Medical Education. The AΩA constitution calls on the committee to consider not only scholastic achievement but also capacity for leadership, professionalism, a strong sense of ethics, and a commitment to service in the school and community, along with outstanding achievement in research. 
Read the AOA Task Force's recommendations
Faculty/Resident & Fellow/Alumni Criteria
Once elected, ΑΩΑ Students confer ΑΩΑ membership onto selected alumni, faculty and residents. They select these members based on the following criteria:
Resident & Fellow Membership: elected based on continued achievement, promise and leadership qualities;
Alumni: eligible ten years or more following graduation and judged on the basis of their achievement to date;
Faculty: elected based on their demonstrated commitment to scholarly excellence and medical education;
ΑΩΑ Inductees also bestow the annual Volunteer Clinical Faculty Award to recognize a community physician who contributes with distinction to the education and training of clinical students.
For more information, visit the National ΑΩΑ Website.
2020-21 University of Chicago Alpha Omega Alpha Honor Medical Society Inductees
| | |
| --- | --- |
| Tess Allan | Robert Nolan |
| Michael Andersen, Jr. | Christianah Ogunleye |
| Stephanie Bi  | Mikhail Pakvasa |
| Jeffery Bunker, PhD  | Emily Papazian  |
| David Cook | Ramya Parameswaran, PhD |
| Nicole Dussault, MA | Anastasia Piersa |
| Phillip Hsu, PhD  | Kellie Schueler |
| Ryan Judd | Nichole Smith |
| Gena Lenti | Jasmine Tzeggai |
| Seán Lyne | Benjamin Yang |
2020-21 Faculty/Resident & Fellow/Alumni Membership
Faculty, Residents, Fellows, and Alumni membership to Pritzker's Alpha Omega Alpha chapter are decided upon by the Class of 2021 AΩA student inductees.
Alumnus
John Blair, MD'03
Department of Medicine
Faculty
Kamala Cotts, MD
Department of Medicine
Sonia Oyola, MD
Department of Family Medicine
Housestaff
Dany Accilien, MD
Department of Medicine
Shirlene Obuobi, MD'18
Department of Medicine
Ben Vazquez, MD
Department of Medicine
Volunteer Clinical Faculty
Aimee Crow, MD
NorthShore University HealthSystem