by Morven Higgins, Health & Medicine Policy Research Group
The Chicago Area Schweitzer Fellowship, a year-long service learning program that empowers aspiring health professionals to design and direct innovative community service projects, today announced that four Pritzker School of Medicine students have been selected for its newest Fellowship class. The Pritzker students join 30 exceptional graduate students who proposed impactful community-based projects to address the health needs of underserved Chicagoans.
Named in honor of famed humanitarian and Nobel laureate Dr. Albert Schweitzer, the Chicago Area Schweitzer Fellows Program encourages students to become lifelong leaders in service by helping to address unmet health needs among vulnerable Chicagoland residents. In collaboration with existing community organizations, each Schweitzer Fellow will launch a community-based project, providing 200 hours of service. Using a broad public health lens, the new Fellows will work to improve community wellbeing and target the social determinants of health—the conditions in which people are born, grow, live, work, and age that have a profound impact on health and quality of life. The Pritzker Schweitzer Fellows are planning the following community projects:
Jessica Chen, MS1 will develop and teach cooking classes focused on budget-friendly, nutritious meals for mothers and children at Su Casa, a shelter for survivors of domestic violence working to establish a strong educational foundation for healthy eating.
Tyrone Johnson, MS1 will implement a holistic wellness program for homeless and housing insecure individuals in Uptown through a multimodal curriculum of workshops encompassing health education, creative writing, and literary discussion.
Rachel Stones, MS4 proposes to offer yoga classes and sexual health education classes with YogaCare at community health clinics in Chicago. The classes will provide education, stress reduction and self-care healing practices for women and adolescents in the surrounding neighborhoods.
Margaret Wang, MS4 proposes a trauma-informed wellness and health series with skills-based community engagement workshops at Apna Ghar that will teach survivors of domestic violence tools to lead a healthy lifestyle and navigate health-related resources.
The 2017-18 Schweitzer Fellows represent 11 area universities and a diversity of health professions and public service fields including medicine, public health, nursing, art therapy, and optometry. Through this interdisciplinary approach, the Program exposes students to real-world inter-professional, collaborative care.
The Fellows were selected through a highly competitive application process that saw submissions from almost 100 area graduate students. In addition to their service projects, the Fellows will also participate in a thirteen-month Program that includes monthly meetings, trainings, and ongoing opportunities for interdisciplinary collaboration as well as support from a team of mentors from their schools and project sites as well as mentors from our alumni network and the Schweitzer Fellowship Advisory Council which oversees the program.
"In the face of ongoing uncertainty in our health care system and increased threats to the services our most vulnerable residents rely on, the role of our Schweitzer Fellows as ambassadors of hope is more important than ever," said Dr. Arthur Kohrman, chair of the Advisory Council and a board member at Health & Medicine Policy Research Group, the non-profit health policy center that administers the Chicago Fellowship. "The Schweitzer Fellowship brings the creative ideas and energy of these remarkable health students to underserved communities. In so doing, we are not only helping them address their present day needs, we are cultivating the next generation of compassionate health care professionals dedicated to making change."
The new Fellows join a network of over 550 Chicago Program alumni who have provided over 110,000 hours of community service to more than 150 community groups over the course of the Program's 22-year history.
 "We are so proud of the Schweitzer Program's extraordinary legacy of service and are thrilled to welcome this new cohort of inspiring Fellows," said Margie Schaps, Executive Director of Health & Medicine. "This sort of community impact is only possible through the steadfast commitment of the many individuals, academic institutions, and local foundations that support this program including the Baxter International Foundation, the Michael Reese Health Trust, and the VNA Foundation. We are deeply grateful for their generosity as we welcome this dynamic group of Fellows to the Schweitzer community."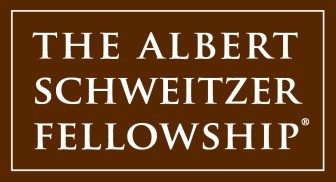 About The Chicago Area Schweitzer Fellows Program
For over 20 years, the Chicago Area Schweitzer Fellows Program has provided a platform for graduate students in health related fields to design and implement innovative projects that improve the health and well-being of underserved populations throughout Chicago. This nationally recognized service-learning program has provided over 110,000 hours of community service to more than 150 community organizations and has had a lasting impact on the Chicago-land community. The program's monthly meetings, trainings, and ongoing opportunities for interdisciplinary collaboration support the Fellows' interest in becoming life-long leaders in public service, combating health disparities throughout their careers. The Fellows for Life Program (FFL) provides continuing leadership development and service opportunities for Schweitzer alumni. The Chicago Area Schweitzer Fellowship program is one of 14 nationwide, and is wholly administered by Health & Medicine Policy Research Group.

About Health & Medicine Policy Research Group
Health & Medicine is a Chicago based non-profit working to improve the health of all people in Illinois by promoting health equity. Founded in 1981 by Dr. Quentin Young, it was formed as an action-oriented policy center—nimble, independent, and focused on regional health issues. Health & Medicine's mission is to promote social justice and challenge inequities in health and health care. It conducts research, educates, and collaborates with other groups to advocate policies and impact health systems to improve the health status of all people. Health & Medicine has successfully developed health policy recommendations and implementation strategies for different public and private entities, earning the trust of the legislature, advocates, the media, researchers, and policymakers at all levels of government in Illinois to become the region's "honest broker" on healthcare policy matters.