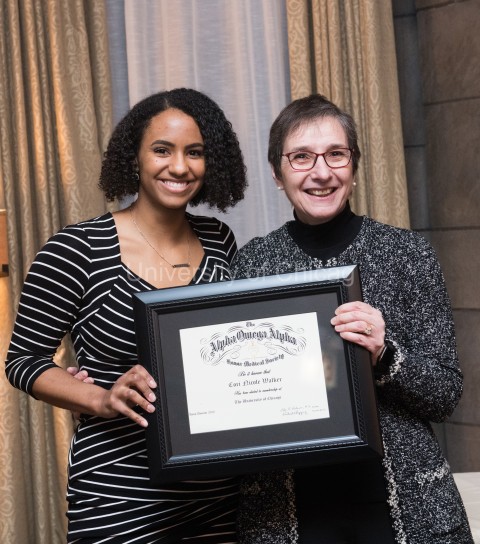 Tuesday, February 21, 2023
The University of Chicago is home to the Illinois Beta Chapter of Alpha Omega Alpha, the national medical honor society. Election to the chapter occurs at the beginning of Pritzker students' fourth year and is guided by the regulations for election as set out in the AΩA constitution. 
All students at Pritzker School of Medicine are eligible for AΩA. The selection process starts with a holistic review of all M4 students, which is aligned with the holistic review our Admissions Committee uses when evaluating prospective students and with the mission statement of the Pritzker School of Medicine. This holistic review, conducted by a committee of staff members, includes: 
Academic performance during clerkship rotations 
Participation and achievements in research/scholarship 
Leadership, volunteerism and institutional service as reported in the Student Management System and in students' CVs 
Peer assessment as determined by an anonymous, end-of-academic year survey of MS3s (the peer assessment score given to students who take time off comes from the cohort with whom they completed the MS3 year)
Up to 20% of the graduating class is selected for membership in AΩA by a separate committee appointed by the Dean for Medical Education. The AΩA constitution calls on the committee to consider not only academic achievement, but also achievement in research and scholarship, leadership, ethical behavior, professionalism, and service to the school and community at-large.
Read the AOA Task Force's recommendations. A summary of these recommendations was published in Academic Medicine.
Faculty/Resident & Fellow/Alumni Criteria
Once elected, ΑΩΑ Students confer ΑΩΑ membership onto selected alumni, faculty and residents. They select these members based on the following criteria:
Resident & Fellow Membership: elected based on continued achievement, promise and leadership qualities;
Alumni: eligible ten years or more following graduation and judged on the basis of their achievement to date;
Faculty: elected based on their demonstrated commitment to scholarly excellence and medical education;
ΑΩΑ Inductees also bestow the annual Volunteer Clinical Faculty Award to recognize a community physician who contributes with distinction to the education and training of clinical students.
For more information, visit the National ΑΩΑ Website.
2022-23 University of Chicago Alpha Omega Alpha Honor Medical Society Inductees
| | |
| --- | --- |
| Dana Anderson | Victoria Oladipo |
| Eric Arellano | Akosua Oppong, MPH |
| Dru Brenner | Hannah Priddy |
| Reem Elobrany, PhD | Henry Seidel |
| Karina Grullon Perez | Steven Server, PhD |
| Reem Hamoda, MPH | Camron Shirkhodaie |
| Pranav Haravu | Swetha Tatineni |
| Devika Jaishankar | Tiffany Toni |
| Manizha Kholmatov | Ian Waters, PhD |
| Nicholas McKenzie | Teresa Xiao |
| Amrita Mohanty | Zaina Zayyad, PhD |
Faculty, Residents, Fellows, and Alumni membership to Pritzker's Alpha Omega Alpha chapter are decided upon by the Class of 2022 AΩA student inductees.
2021-22 Faculty/Resident & Fellow/Alumni Membership
Alumnus
Robert Guzy, MD'08, PhD'05
Department of Medicine
Faculty
Stephen Estime, MD
Department of Anesthesia and Critical Care
Milda Saunders, MD, MPH
Department of Medicine
Housestaff
Aisha Amuda, MD, MPH
Departments of Medicine and Pediatrics
Ira Kraft, MD
Departments of Medicine and Pediatrics
Mohamed Taha, MD
Department of Pediatrics
Volunteer Clinical Faculty
Rosaura Licea, MD
Cicero Medical Clínica San Lázaro