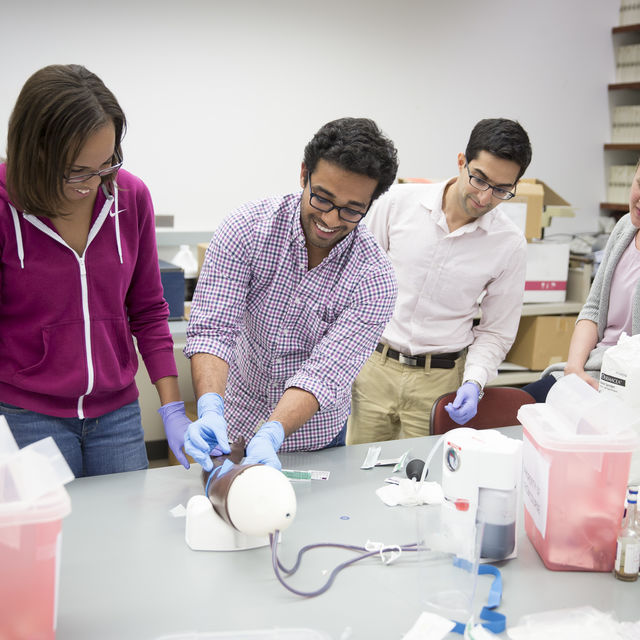 The Pritzker Curriculum
The Pritzker curriculum embodies three principles:
An emphasis on active learning;
Integration among disciplines when possible and appropriate; and
A requirement for a scholarly project for all medical students.
To further promote an atmosphere of shared learning and collaboration, the Pritzker curriculum utilizes a Pass/Fail grading system.
Quick Links
Joint Degrees
Learn more about Pritzker's dual-degree programs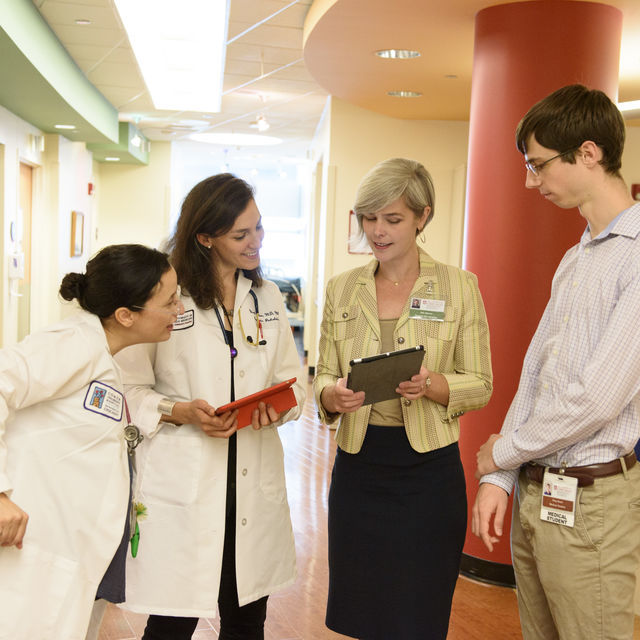 Innovation in Medical Education
The University of Chicago has a long rich history of innovation in education.
Quality scholarship in medical education is essential for preparing future physicians to provide exemplary patient care and to become outstanding educators. We provide resources for all faculty to support the acquisition of teaching skills and to encourage scholarship in educational methodology through a broad array of faculty development initiatives.
Technology in Medical Education
Our curricular technology team is made up of Brian Paterson and Eddy Markaj, who are here to help students and faculty with computing, learning management software, presentations, database software, and other digital needs.
Virtual Microscopy (VMicro): Virtual collection of large-scale pathology slides.
SharePoint: Project Management Web Application assisting with online collaboration
Office 365: The University of Chicago offers faculty, staff, and students access to Microsoft Office 365. Services range from basics like Word, PowerPoint, and Excel to project management software such as Microsoft Teams and application building with PowerApps.
Web Conferencing with Zoom: Zoom offers video and audio conferencing for meetings and classes.
Canvas: Canvas is the primary learning management system in use by the University of Chicago.
LinkedIn Learning: Access a library of over 16,000 video tutorials led by industry professionals. Learn software skills and tips to increase efficiency, personally productivity, and boost your career potential
First, make sure to set up 2FA. If you have it set up properly and you still cannot get access, reach out to IT Services by phone at 773-702-5800 (2-5800) or by email.
Contact our curriculum team's Learning Technology Specialist, Eddy Markaj, for Canvas course creation and design. Once the course is created and running, any additional questions can be directed to Eddy or ITS by phone at 773-702-5800 or by email.
We also encourage faculty and peer educators new to Canvas to attend one of the many ITS informational workshops to learn about the functionality and application of Canvas.
 
Navigate here. On the second page where it asks for your username, make sure you select the domain "uchad.uchospitals.edu" from the drop-down menu.
Then, follow the instructions to change your password. Once you have successfully done this, try logging in to the Outlook web-portal again. If you're still having trouble, please contact our Learning Technology Specialist.
If you have set up your password already and can still not log on, contact UCM IT by phone at 773-702-3456.
Feel free to visit the Regenstein Library Tech Bar. They can help fix the device, or if it cannot be fixed, recommend another product to suit your needs.
Navigate to the Center for Research Informatics (CRI) site for all your data needs; this includes RedCap, Bioinformatics Core, Clinical Research Data Warehouse, Cohort Discovery, Velos eResearch, and CRI Training.