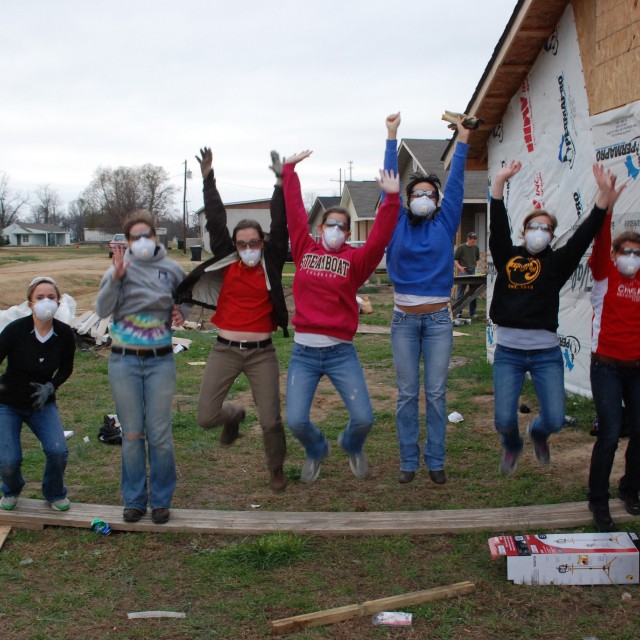 Community Service
As our mission statement illustrates, we are dedicated to helping our students work towards the "betterment of humanity".
Many of our students decide to pursue medicine out of a desire to make a positive impact on the world. To that end, we offer students an abundance of service opportunities to complement their course work, including student-run clinics, community organizations, service learning, and volunteer events. We recognize and honor medical students and faculty who practice compassionate and altruistic care with membership in the Gold Humanism Honor Society, among other service-based awards.
6

student-run free clinics

26

average number of free clinic patients seen per month

90

percent of our students volunteer at free clinics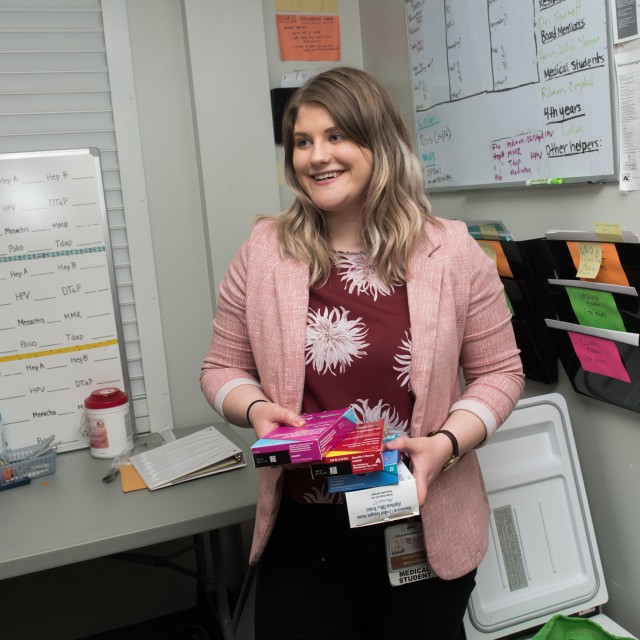 Student-Run Free Clinics
The mission of our free clinics is to provide superior health care in a compassionate manner, ever mindful of each patient's dignity and individuality.
We have six community clinics throughout Chicago—the West, North, and South Sides—treating uninsured patients in communities that are underserved by the healthcare system in a variety of cultural contexts. These clinics a) provide excellent patient care, b) allow our students to gain hands-on experience in both patient care and medical service, and c) provide leadership opportunities for our students in the realm of clinic management and community outreach.
Our Free Clinics
Community Health Outreach Groups
Aside from volunteering at free clinics, Pritzker students give of their time through many other organizations.
The University of Chicago Asian Pacific American Medical Students Association (APAMSA) seeks to promote health for all Asian and Pacific Islander communities and individuals through community action and health education.
Contacts: Stella Cho, Alia Abiad, Francesca Chu, Woorin Jang, Cynthia Zhang, Lauren Sheu, Emma He, and Hecong Qin.
Faculty Advisor: Sandy Tun, MD, Department of Medicine and Jonathan Lio, MD, Department of Medicine
Chicago Street Medicine aims to improve the health and well-being of people who are experiencing unsheltered homelessness. Our approach is two-fold: first, we go on street runs, providing basic medical care, resources, and connections to social services; and second, we conduct research on and work to educate the community about issues that disproportionately affect the health of the homeless. 
Contact: Anna Thorndike and Caraline Sepich.
Faculty Advisor: George Weyer, MD, Department of Medicine
The purpose of this organization shall be to provide community based glucose and blood pressure screenings. Provisions to expand our services will be up to the discretion of the board and the needs of the community. We shall follow our community based screenings with community based diabetes and health related education programming in order to expand the knowledge base of the community as well as to empower individuals to take charge of their own health.
Contacts:  Carlin Lockwood
Faculty Advisor: Deborah Burnet, MD, Department of Medicine
The purpose of this organization shall be to provide undergraduate and medical students an opportunity to serve as mentors and friends to minority high school students who are underrepresented in medicine. The definition of minorities who are underrepresented in medicine as defined by the American Association of  Medical Colleges is: 'Underrepresented in medicine means those racial and ethnic populations that are underrepresented in the medical profession relative to their numbers in the general population.' These high school students come from high schools throughout the area to the University of Chicago campus once a month where they participate in a variety of lectures, discussions, and hands-on activities with the goal of giving insight into the life as a health professional as well as an opportunity to connect with medical students and physicians.
Contacts: Alex Wang, Alia Richardson, Taytum Kahl, Chime Ezenekwe, Jonas Talandis, Vanshika Narala, Manish Pathuri, Nihar Rama, Kyle Tingling, and Julliana Ramirez-Matias. 
Faculty Advisor: Abdullah Pratt, MD,  Department of Medicine
JOURNEES seeks to expose medical students to the health care needs of diverse patient populations beyond that of the University of Chicago Medical Center. Through direct service-learning experiences, we hope to gain awareness of the social determinants of diminished health conditions in underserved areas and to assist community organizations working to alleviate poor health outcomes throughout the country.
Contacts: Anaelena Rodriguez and Alex Rosencrance. 
Faculty Advisor: Sonia Oyola, MD, Department of Family Medicine
On a Mission for Nutrition is an organization that was formed to address the obesity disparity on the South Side of Chicago. Born out of a project emanating from the Health Care Disparities in America course at Pritzker, On a Mission for Nutrition is an after-school program that educates students on nutrition and empowers them to make healthy choices. The goal is to promote the health of our community but also to learn about the importance of public health.
Contacts: Carly Lockwood, Arianna Parkhideh, and Preetham Katsury. 
Faculty Advisor: Anna Volerman Beaser, MD, Department of Medicine
We are a medical student organization at the Pritzker School of Medicine dedicated to relieving the health disparities of developing countries. We annually plan a service trip to an international and underserved location to provide needed medical services. We also raise money throughout the year to make a generous donation to the non-profit organization with whom we partner. In doing so we experience and witness the health disparities in these countries, understand these issues in order to ultimately become health advocates by educating our community.
*Help support REMEDY by using the GoodSearch search engine!
Website: remedyuchicago.org
Contact:  Alexandra Diaz-Barbe, Fidel Haro, and Keith Skaggs. 
Faculty Advisors: Brian Callender, MD, and Sonia Oyola, MD, Department of Medicine
The South Side Science Scholars group is committed to creating and delivering a sustainable weekly afterschool science program to under-served Chicago grade schools, particularly those of the South Side. We aspire to positively impact children's scientific thinking, elements of health education, communication skills, and enthusiasm for science.
Contacts: Christian Carrier, Andrew Palmer, Geena Woo, and Natasha Powell 
Faculty Sponsor: Jim Woodruff, MD, Department of Medicine
The University of Chicago, Pritzker School of Medicine Chapter of the Student National Medical Association (Pritzker-SNMA) is committed to academic excellence, student recruitment and mentoring of underrepresented minorities, and community service.
Contacts: Vincent Buckman and Danielle Gaskins. 
Faculty Advisor: Bryan Smith, MD, Department of Medicine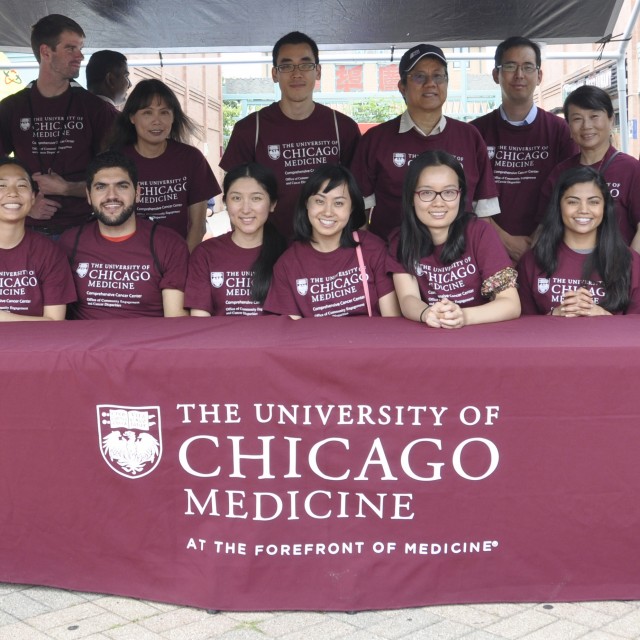 Community-Based Medical Education
The Department of Family Medicine plays a leading role in Community Based Medical Education at the Pritzker School of Medicine and in the University of Chicago Medicine's Urban Health Initiative. Medical students have multiple opportunities to learn about and serve different communities on Chicago's South Side. They can participate in clinical care with family doctors at community health centers in both the Longitudinal Program and the Family Medicine Clerkship; they can choose to participate in service-learning projects in local schools, free clinics, and community organizations; and they can participate in community engaged scholarship with community and faculty mentorship through the Community Health Scholars Track.