Why Pritzker?
Our students say our academic and research reputation; commitment to health equity and community partnership; the quality of our faculty; and the success of our graduates all influenced their decision to choose Pritzker for their medical education. In addition, they cite five distinctive attributes that set us apart from other medical schools:
The small size of our student body - 90 per class - means that you will be known not only by your classmates, but also by our faculty. The close relationships you build will provide a network of mentoring and support that will last your entire career. Each student is supported by a team of faculty, including research mentors and career advisors. 
The University of Chicago is located in the historic, residential neighborhood of Hyde Park, just 20 minutes south of downtown Chicago. This location provides students the best of two worlds: a comfortable home in a neighborhood with a college-town feel, and easy access to everything else going on in a world-class city.
Our location on the South Side also means that our students and faculty are privileged to care for some of the most diverse communities in Chicago through both UChicago Medicine programs and our six student-run free clinics.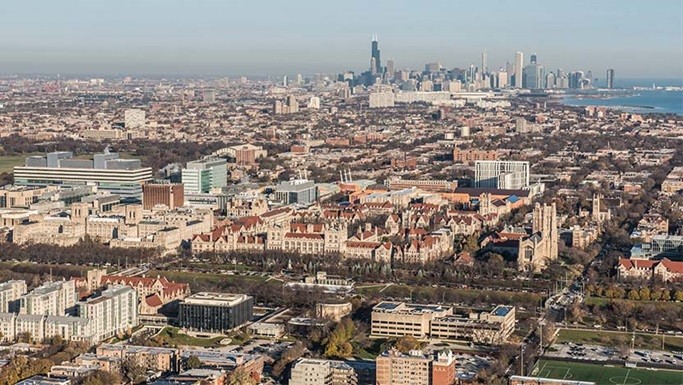 Our school falls under the umbrella of the Biological Sciences Division. This relationship fully grounds our teaching in the sciences, meaning that as physicians, you will be able to base treatments on a more basic understanding of any given disease, translating it from bench to bedside. We are also one of few medical schools to be located physically on its University campus, offering both intellectual and social advantages to students who spend their medical school years at the center of the University. Most importantly, the opportunity for interdisciplinary work is outstanding – the law school, the business school, the school of public policy, and the humanities division - to name just a few - are located within steps of the medical school, providing a rich array of opportunities for our medical students. Many of our students also pursue joint degrees with these other outstanding graduate programs.
Our pass/fail curriculum contributes to a collaborative and tight-knit student body. Our students call themselves the "Pritzker family" and bring diverse intellectual and social contributions. Together, they form the Pritzker community, and take active part in many extracurriculars and student organizations. We also strive to create an open, inquisitive, and welcoming learning environment. We look for students, faculty, and staff who exemplify these qualities and who will add value to and benefit from our community. 
Our strong commitment to diversity is evident in the wide variety of backgrounds, life experiences, and cultures of our students. We believe that the more perspectives we can share, the richer the learning environment. Around 35% of entering students in a typical class at Pritzker are from backgrounds underrepresented in medicine. Our Office of Health Equity, Diversity, and Inclusion is committed to supporting our students in their scholarly pursuits and professional growth, and we also have a number of student organizations that promote an open, inclusive learning environment, such as the Student National Medical Association, OUTPatient, the Latino Medical Student Association, First-Generation, Low Income Pritzker, and others.