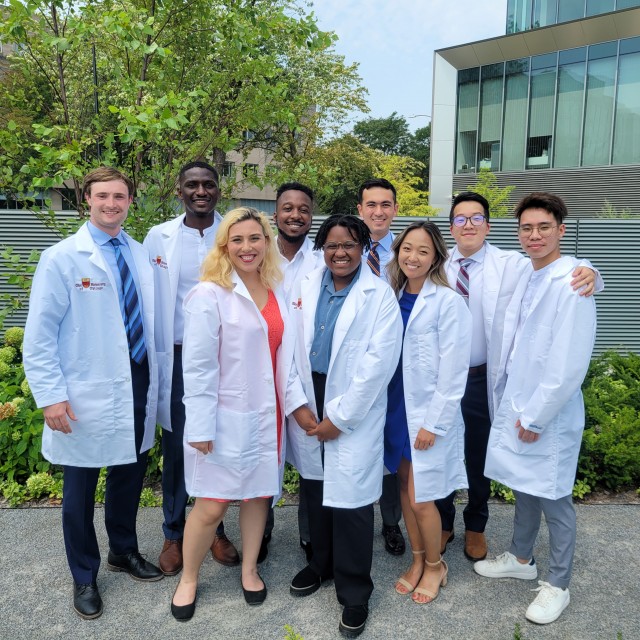 Medical Scientist Training Program
The University of Chicago Medical Scientist Training Program (MSTP) was established in 1967 and is one of the longest running physician-scientist training programs in the country. Our goal is to train the next generation of physician-scientist leaders and to provide all students with rigorous scientific training that prepares them to excel in their field of interest.  Our students seek careers in biomedical research and have a desire to apply both clinical and research expertise to solve the most pressing problems in medical science. The program has an illustrious history of training students  to assume positions of leadership in academic medicine at major research institutions nationwide.
Join Our Mailing List
78

current students

25

research specialties

110

participating faculty
What makes UChicago's MSTP Unique?
The University of Chicago's MSTP also boasts a rich history of exceptional career outcomes and alumni achievements. You will maximize your potential as a biomedical scientist through our outstanding career development support. Our MSTP's commitment to tailored career advising and ongoing mentoring from leading experts puts you in the best position to reach your goals. For the past several years, all MSTP graduates have matched in one of their top preferred residencies.
As a University of Chicago MSTP trainee, you will benefit from the rich history and world-class reputation of The University of Chicago—including but not limited to its Pritzker School of Medicine and Biological Sciences Division. The Pritzker School of Medicine remains one of the nation's top medical schools, in addition to the overall university ranking being number 6 among national universities. The city of Chicago's wealth of cultural activities and unique history provides an ideal backdrop for your time as a student.
Due to the size of the medical school (90 per class) and MSTP student body (78), you are not just a number. You will benefit from a tight-knit cohort of bright and motivated peers and gain support from not only the wider community of current MSTP students but also MD and PhD students. We also value your wellness and work-life balance; as a result, our students enjoy outside hobbies and are involved on campus with organizations such as MSTP's Student Council and other student organizations.
Our students engage in a variety of community outreach and service-related activities. We value engagement with the Hyde Park neighborhood—a historic area known for its political and social activism and as one of the most racially and economically integrated urban communities in the U.S. For example, MSTP students have been honored for their unique contributions to student-run free clinics that focus on access to healthcare for underserved patient populations. The campus location and the hospital's designation as a Level I Trauma Center impacts a broad spectrum of patient populations served—in addition to being a leader in research and innovation through clinical trials.
Compared to a more rigid structure, our flexible curriculum allows you to pursue training in one field or to chart an innovative course of study that integrates two disciplines. Our students also receive individual and ongoing guidance from our Associate Director of Curriculum. Students earn the MD and PhD through one year of medical school, followed by 4 years of graduate school, and three final years of medical school (1-4-3). Benefits of this pathway include but are not limited to larger blocks of time to bond with peers on both the graduate and medical school phases and the ability to complete your Step 1 exam closer to when you interview for residencies. This structure also ensures a focused, intensive research experience and preserves the continuity of clinical training. On average, our MSTP trainees complete both degrees in approximately eight years.
Learn More About Our Program
Funding: NIGMS T32
The University of Chicago's Medical Scientist Training Program is one of the oldest continually-funded MSTP's in the country.
Funded in part by a National Research Service Award from the NIGMS since 1975, our T32 grant was renewed in 2018 for an additional 5 years. We currently have 22 appointment slots, with additional support for NIH OxCam scholars. 
From the NIH:
"The goal of the NIH Medical Scientist Training Program (MSTP) is to develop a diverse pool of highly trained physician-scientist leaders available to meet the Nation's biomedical research needs. Specifically, this T32 provides support to eligible domestic institutions to develop and implement effective, evidence-based approaches to integrated dual-degree training leading to the award of both clinical degrees, e.g., M.D., D.O., D.V.M., D.D.S., and research doctorate degrees (Ph.D. or equivalent). With the dual qualification of rigorous scientific research and clinical practice, graduates will be equipped with the skills to develop research programs that accelerate the translation of research advances to the understanding, detection, treatment and prevention of human disease, and to lead the advancement of biomedical research. Areas of particular importance to NIGMS are the iterative optimization of MSTP training efficacy and efficiency, fostering the persistence of MSTP alumni in research careers, and enhancing the diversity of the physician-scientist workforce. NIGMS expects that the proposed research training programs will incorporate didactic, research, mentoring and career development elements to prepare trainees for careers that will have a significant impact on the health-related research needs of the Nation."